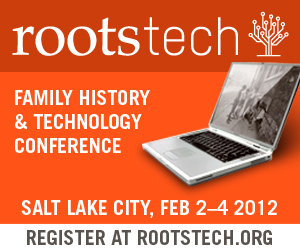 We had lots of entries to win a free registration to Rootstech Feb 2 to 4, 2012 in Salt Lake City.   The contest closed at midnight last night (November 13) and a random drawing of all of the winners was made this morning.  I recruited my husband to do the drawing.
Drum roll please!
The Rootstech Registration Lucky Winner is Linda Murray!
Linda shared the following information with us.
"I would love to attend "Ancestry DNA – peering into the future" at Rootstech 2012 to hear more using DNA for genealogy.  I had a difficult time choosing just one talk as there were so many that looked great! Attending Rootstech would be important to me as it would help me become more informed about using technology for my family history research. I spread the word about the conference by posting on my Facebook wall."
Congratulations Linda!  The value of Linda's winning registration is $129 USD.
If you were one of those that didn't win, don't  despair.   Registration is available at the Early Bird Rates of $129 up until November 29.  It is $189 after November 30th.  Don't miss out!  AND there are still  Rootstech Official Blogger contests being offered (listed below).
Geniaus ( closes at Midnight GMT (Greenwich Mean Time) on Wednesday 16th November, 2011.)

Gathering Stories (You must enter before midnight CST on Friday, Nov. 18.)

—
This contest was offered as part of my association with Rootstech as an Official Rootstech Blogger.  The winner receives one free registration to the conference. (Transportation and hotel costs are the responsiblity of the winner.)