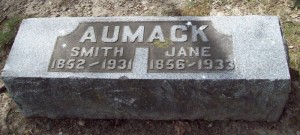 AUMACK Gravestone
Smith Aumack 1852 to 1931
Jane Aumack 1856 to 1933
Burial: Caldwell Cemetery, Eau Claire, Michigan (also known as Eau Claire Cemetery).
Interactive map and GPS data: (approximate)
GPS Coordinates: Latitude: 41.98610, Longitude: -86.28610
Parents of John Henry Aumack (born in Michigan, died and buried at Rabbit Lake, Saskatchewan).   Smith and Jane Aumack are our children's great, great grandparents on their father's mother's side.
Source: Findagrave.com