Wow Factor at Family Reunions

Click on the picture for a larger view.
In the summer of 2008 we had a KERR family reunion on Vancouver Island.  Since I'm into genealogy I looked for a way to make a continuous family tree banner.
My software program will make pages that I can print off and tape together…but that wasn't good enough.  I wanted a large scale continuous BANNER.
I finally found a software program that would accept my gedcom and background picture. (Family Tree Factory, $39.95 USD).  (note this is not the same as Family Tree Maker).
This feature-laden program has a steep learning curve…although I suppose it would have helped if I had read the tutorial 🙂
I saved the output as a pdf file and emailed it off to the local print shop.
Above is the end result and below is a close up zoomed in section of the middle of the banner.  I repeated the photo along the entire length of banner.

These are my KERR grandparents.  The size of the banner is about 13 feet by 15 inches.  I had two copies printed off and it cost about $13.  The print shop charges by the square foot.
This poster banner was a big hit at the reunion.  I had relatives put their corrections and additions directly onto one of copies of the banners.
This was the start  of several creations.  I made another banner for a major milestone birthday in our family on my husband's side.
What if you have a large family?
This banner was quite a bit larger, approximately 20 feet by 3 feet.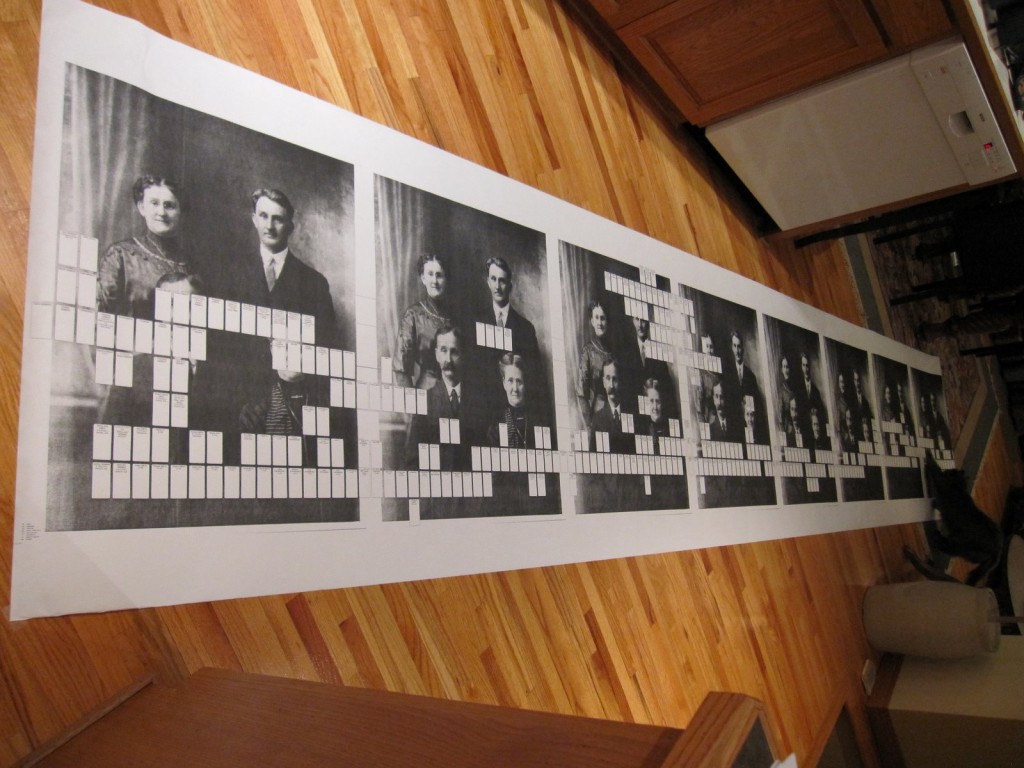 Click on the picture for a larger view.
We had the party in a community hall so there was lots of room to display it on the wall.  This kitchen floor picture doesn't do it justice!  Yes, that is our dishwasher and yes, that is the cat slinking across the far end 🙂
Here is the close up detail.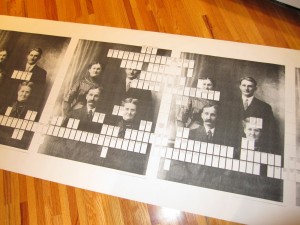 This is my husband's AUMACK family.   This banner cost about $30 to print.
If you are a do-it-yourselfer this is a very economical way to produce the WOW factor at family reunions.
—
Don't want to do it yourself? Try Family Chart Masters