The Salem Witch Trials
The Salem witch trials were a series of hearings and trials to prosecute people accused of witchcraft in Essex, Suffolk, and Middlesex counties of colonial Massachusetts, between February 1692 and May 1693. Over 150 people were arrested and imprisoned, with even more accused but not formally pursued by the authorities. The two courts convicted twenty-nine people of the capital felony of witchcraft. Nineteen of the accused, fourteen women and five men, were hanged.*
One of those women, Mary EASTEY was my husband's 7th Great Grandmother.
Mary Towne Eastey (also spelled Esty, Easty, Estey, or Estye) (August 24, 1634—September 22, 1692) was a victim of the Salem witch trials of 1692. Mary's sisters, Rebecca Nurse and Sarah Cloyce, were also accused of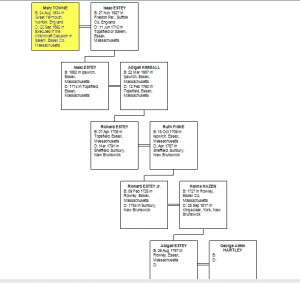 witchcraft; Rebecca was executed, but Sarah was not.**
Mary gave an impassioned appeal to the judge that brought tears to the eyes of the spectators but to no avail.  She was tried and condemned to death on September 9, 1642.  She was hanged, along with 7 others on September 22, 1642.  To read more check out the references at the end of this post.
Our connection, partially shown on the left, leads to New Brunswick  to our Ira MILLER who married Salome Estey HARTLEY.
Are you related to any of the Salem witches?  Are you related to our Salem Witch Mary Eastey?
Comments are welcomed.
*http://en.wikipedia.org/wiki/Salem_witch_trials