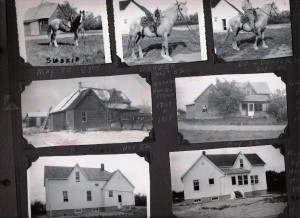 My sister has the most amazing memory. We grew up on the Saskatchewan prairies about 8o miles north of Regina (south of Nokomis, near the the ghost town of Hatfield) and lived in a big old drafty 2 story house that had been remodeled.
Random childhood memories that she and I recall:
Eating bags of cucs (cucumbers) as we travelled from Sask to Expo 67 in Montreal.
Having orange floats when having a break from haying
Toys : Twilly Metal Top, the purple gleep, American Logs (my bother's set that made to log cabins)
The Attic of the old house with the boards to step on so we didn't fall into the kitchen and the scary dorr that lead to it.  ( I remember reading all the books in the attic, mostly Zane Grey ones!)
Plants – Grandma's shamrock, Mom's asparagus, and hoeing endless rows of pototoes
Horses – my palomino horse – Sulphur.  We had a Molasses too, plus CY and an a stallian named Denver
Swimming Lessons – at Last Mountain Regional Park – sleeping in an old canvas tent that the pole would pop through the center every wind storm;  keeping our food cool in cream cans in the flowing well.
Those are some of the memories we recall.
Please leave your comments and other memories  below.
UPDATE – My brother's memories
"More random memories- house had willow bushes and 1905/1915? newspapers in the walls so we would put bales of straw around base of house in winter to limit the frost in the corners of the rooms. – walked to one room schoolhouse in Hatfield – one year for me- 3 for Joan – and in winter Dad would harness up Denver and pull us on the stone boat with a couple balse of straw to sit on. Rest of time stone boat was used to haul manure out of barn. – swim lessons – had to rinse off after swiming to prevent the "itch" which later learned were duck mites. Itch was way worse than mosquito bites. Some great evening swims after hot days of haying. Swim out to the raft – race Dad or Joan.  Learning to dive. – rafting/wading in sloughs in the spring – breaking ice and trying not to get water over your rubber boots. Draining the water from the yard as snow melts in spring and birds arriving back. Big bird migrations in the fall – sandhills cranes going over in V's for hours in the evening – we were in Central North American Flyway – Migation route – hundreds of thousands of geese, ducks, cranes , etc including large White Whooping Cranes. – playing catch or ball with Joan, Dad and Mom in evening.(and Ellen as she got older.)"
Joan adds – I remember chasing my siblings while playing fox and goose in the snow under the big yardlight in the evening. Also zooming around on the ski-doo.  Taking cousins horseback riding. Round up in the fall.
Update 2 – another contribution from sis
Texas gate and the skunks in the hole over night.  Had to watch for them when you were heading out to catch the school bus
Skunks in the Maxwell house
Driving out to the creek in the spring to watch the ice break up  – usually after school
Riding in the back of the truck and being designated to open the gate…..like this was a big honour (sarcasm)
Bill mention the ski-doo but specially it was the "Wild One"
Checking the bull field
Climbing the wind mills to count the head of cattle
Round up
Playing anti anti I over game
Hanging at the lake and reading Archie comics in the tent
Trixie, Squirt  ( got her in Saskatoon Nov 7, 1971 on Mom and Dad's 20th anniversary.  Big day for them, huh?  Ate at the Esso the corner of 22nd and Ave. P and then went to Schultz's for a visit)
Schultz and Christie visits
Many dinners and evenings with Martens and Hurley's playing cards.  Sometime Fletchers and Greenfields
Camper elbows
The tree house and cat walks
UPDATE 3- more memories
Rubber Ice in the spring
"Bouvis roadsidis" and "rail sing cross way" were a couple of Dad's expressions
Canned chicken for picnics
Various road trips around Saskatchewan – over to Outlook dam and Diefenbaker lake to see the progress 1967? other PFRA pastures and their families. No road trips until August after haying was complete.
Denver waiting on the other side of the fence waiting for the corn husks (his candy)
UPDATE 4 from best friend Jacquie (I remember waving a burning marshmallow around and it landed in her hair!)
First swim in "The Lake" each spring, sometimes there was still ice! Bill had to dare us to get in. Swimming lessons every summer- Bill and friends throwing frogs and snakes at us girls, suntanning with mixture of baby oil and iodine! Supposed to prevent "the itch". Burning pegs salvaged from power poles in cabin stove to warm up after lessons, mom would make us all hot chocolate.
Joan and I listened to the moon landing on a transistor radio while at Girl Guide  camp in northern Saskatchewan, Candle Lake I think. We were Junior Leaders at the time and had confiscated the radio from someone. The decision was made to relax rule against radios and the whole camp listened to history in the making.
Walking through bull pasture to get to Bill's fort and catwalk. I was terrified .
Spending overnight with Joan in the farmhouse- I got to ride the school bus, a big thrill for a town kid.
The memories keep flooding in.  This is great!!
UPDATE 5 – my mother's sister Marion remembers coming to our place and baking up a storm so we'd have goodies for round-up.
And one of my BC cousins Mark, left a comment about their yearly summer visits.
"Being one of the cousins who use to travel from BC to visit our cousins on the farm – I remember the great hospitality…fun sleeping in the hay loft with all the boy cousins, listening to stories of Hobos who we were afraid of. One tight we hung a bale of hay from a rafter over the stairs to the hayloft just for protection so we could stop any hobo who tried to attack us. Your poor Mom almost got a bale of hay on her head when she came to check on us. Haying, throwing bales onto a wagon, trying to catch gophers – what was it six cents a tail? Endless games of monopoloy….Cousin Mike from Ontario won those. The Lake swims, going down to the salt pool in Watrus. I learn a little of politics first from your Dad – Uncle Ed (whom I got my middle name) – BC was the land of socialists….and it won't be so big if it was laid out flat. Some kids got to Disneyland, we got real life adventures – thanks Joan, Bill and Ellen for sharing the Homestead"
Please leave your comments below.