WorldCard Mobile – Business Card Scanner for Genealogy Conferences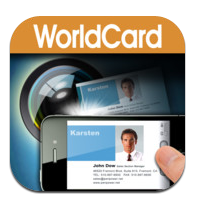 Going to Genealogy Conferences is one of my favourite things to do.   At these conferences I make lots of connections and in the process get lots of business cards.
When I return home I have great plans to enter all of the contact information into my phone and toss the cards but it never seems to happen.  What DOES happen is I misplace the cards.
I recently downloaded an iPhone app that worked well as a genealogy business card scanner.  This handy app is called WorldCard Mobile and is available in the iTunes App Store.  It costs $5.99.  I have tried some of the free business card scanners but find this one works the best.
It is compatible with iPhone, iPod touch, and iPad and requires iOS 3.1 or later.
Here is a little video I made to show how quick and easy this business card scanner is.
How to use the World Card Business Card Scanner
1.Download the WorldCard Business Card Scanner in iTunes App Store on your iPhone
2. Click on the camera button. The app will show you a graphic indicating which way it wants the card orientated for the photo.
3. Optical character recognition allows the business card scanner to capture the information. There is an edit button if you wish to make any changes or add to the information.
4. Import the card information into the contact information by clicking the button on the upper right.
Very slick and easy. I like this app and recommend it.
I will be attending the FTDNA Project Administrator conference in Houston Nov 4 to 6, 2011 and Rootstech in Salt Lake City in February.  I plan to have my World Card Mobile app ready to be a business card scanner when I get new cards from my contacts at the conferences.
>>>> WorldCard Mobile Business Card Scanner app
—
Disclosure – I received a trial copy of the WorldCard Business Card Scanner app to test although I don't feel this influenced my review in any way.  If it didn't work well I would tell you. Please see my disclosure policy.