Canada is a land of immigrants and my first ancestor to make his home here was James KERR and his wife Jane HENDERSON. They were my great, great, grandparents.
Today's post will be a journey through some of the documentation we have to date of James KERR in Canada.
They settled in Quebec some time between 1841 and 1847 based on the birth places of their last two children.
James and Jane KERR and the family appear on the 1851 Census of Canada.  James, age 43 is listed as a shoemaker.  His wife Jane is 41.  The family were from Ireland (we know that that the last child was born in Quebec so this census notification was incorrect for Sarah).  We also know the family are Methodist.
Children showing on the 1851 Census are James, Catherine, Jemina, William and Sarah  and are aged 22,17,14,11 and 4 years.
The location of the census (not shown on the page below) is in Compton Township which is located in the Eastern Townships of Quebec.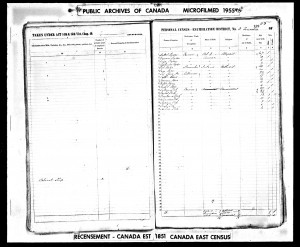 Click on the image for a larger view.
Jump forward a few years to the 1861 Census of Canada and we find the family again.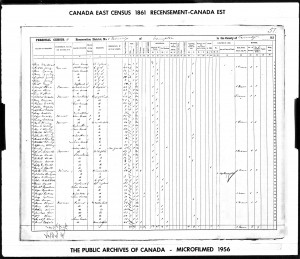 Click on the image for a larger view.
There is more information on this image with regards to location – No 1 Township of Compton, in the County of Compton.
The KERRS appear at the bottom.  James is now listed as a Farmer from Ireland.   The family is Methodist as before but this time Sarah, the younger child is listed as being born in "Lower Canada".
Ages of the family (on next birthday) are James (58), Jane (55), Catherine (25), Jemina (23), William (20) and Sarah (14).  There is no sign of the eldest son, James.  More on him in another post.
We also know the gender, whether they are married or single, whether the residents were members of the family (all were in this case).  We also know the youngest two children were still attending school (even William at age 20?).  The house is a 1 story frame house and that there is only one family living there.
So where is Compton?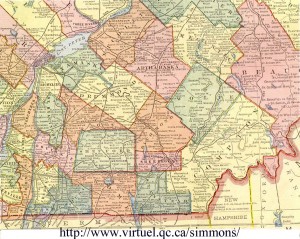 Compton Township appears on the lower right hand corner of the Eastern Townships (Map reference – Marlene Simmonds Eastern Townships Genealogy )
The town of Compton is very close to Stanstead Township on the left hand side of Compton Township.  Please note this is not an historical map and the township borders may have changed.
Our next piece of evidence is the youngest child's baptismal record in 1848. From that we have James and Jane's signatures as witnesses.  We also know their church is the Methodist Church in Compton.
Sarah's birthdate was the 20th of October 1847.  She was baptised on the 17 April 1848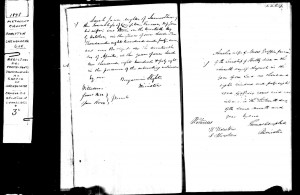 Click on the image for a larger view.
James and Jane's signature appears on many other vital documents on their family, including his will.
I'll save them for another day and another post, but I will close with his burial record from September of 1873.  Witnesses were Jane S Kerr (his wife) and daughter Jemina Kerr.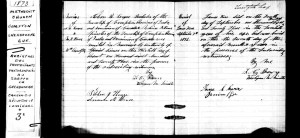 —