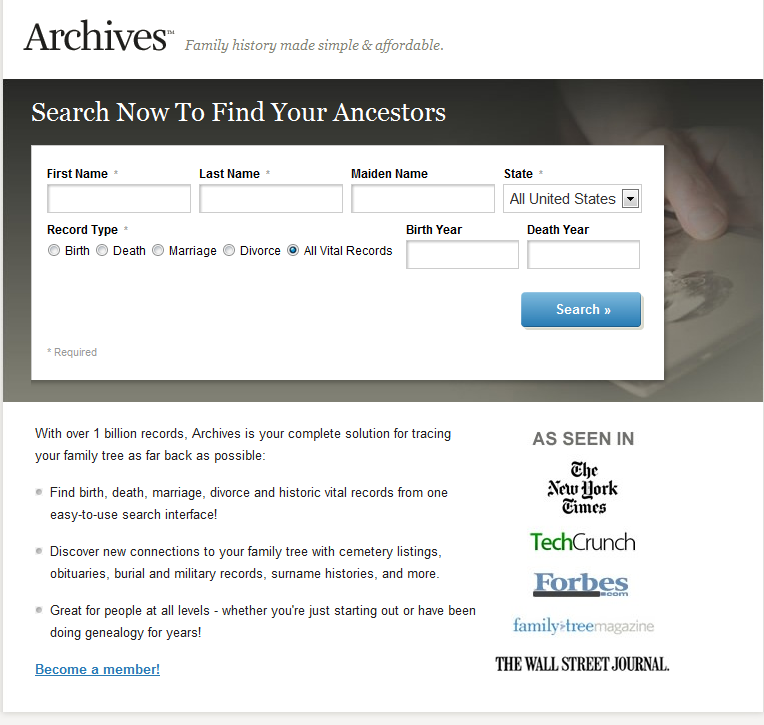 Family Tree Search – Archives.com
One of the most visited posts on my blog is a 2010 review I did of Archives.com.   Recent updates to their collections and the news that they have partnered with Geni.com to offer records,  provides a fresh opportunity to review this company.  Archives.com offers family tree search services for the genealogist and family historian.
I recently contacted Julie Hill, the Product Manager for Archives.com to learn how this company can be used for family tree search.
Here are her responses to my questions. [Update – see point 4 for how the company responds to customer service concerns]
1.  Who is Archives.com?  Does Archives have genealogy advisors?
Archives.com (launched July 2009) is owned and operated by Inflection, a Silicon Valley based start-up company. I've been with the company since 2008, so I've also been here for the original site launch and name change from GenealogyArchives.com to Archives.com. It's been an extremely fun journey so far! Inflection owns several websites which use advanced technologies to aggregate billions of records (new and old) to help connect people. You can learn more about Inflection and our brands here.  We don't have official genealogy advisors, but we are close with many prominent folks in the community. We also recently brought onboard Anne Roach (formerly with FamilySearch) as the Director of Content Development who is well known in the genealogy industry.


2. What new services has Archives.com added for family tree search in the last 6 months or so?
We've made many enhancements this year .. here are a couple of the most notable:
Addition of hundreds of millions of records http://www.archives.com/collections (note these records are organized by recency). Most importantly, the US Federal Census records. 
Archives has connected with Facebook. We've created a Facebook application which allows you to build and share your family tree inside the Facebook interface. We're working hard to continue to enhance this experience. 
We launched a free Archives.com membership which allows you to build your family tree in Archives, search for records (to view you must upgrade to a paid membership), and use our resources at no cost. To sign up for a free membership just visit http://www.archives.com/, enter your information, and click "Start my family tree".
Other updates include: search optimizations to bring users better results, and the addition of lots of new resources like weekly articles from genealogy experts.
3. How can Archives.com benefit my readers for family tree search (primarily genealogy and family history folks)?
The mission of our site is to make online family history simple and affordable – which is something we think everyone can benefit from. Annual membership to Archives.com ($39.95) is a fraction of the cost of other commercial sites, and we have developed a product with many of the "must haves" for genealogists – including historical records that aren't available anywhere else online for free. To illustrate this very recently we launched this comparison page which gives a great side-by-side comparison of Archives.com and the nearest competitor.
Archives.com Customer Service
4. Several unhappy Archives.com customers have contacted me based on my 2010 review of Archives.com.  What has Archives.com done to make things right for these people?
Thank you for alerting us. I coordinated with our Director of Member Services to make sure we responded to address these concerns. We try very hard to make sure customers know how to contact our friendly customer service team through the proper channels. We are always happy to assist, and I'm truly sorry that some of these folks had negative experiences using the site. Our customers' satisfaction is very important to us. As we mentioned in our blog comment we understand that sometimes people make mistakes and forget to cancel before the end of their free trial – in which case people can contact us at support@archives.com or 1-888-896-4442 and we'll make sure they are helped.
We have heard from a lot of people very satisfied with the service, so we're also glad to hear when we are able to help folks find their ancestors. There have been many recent developments (the addition of new records, updated family tree tools, etc) which have also enhanced and expanded our product offerings substantially.
5. Do you have a list of resources Archives provides for family tree search – census, newspapers, etc. ? Where are you sourcing your newspaper archives?
Records available on Archives.com are viewable here.  Again, the titles are listed in order that they were added to the site. The largest source of newspapers on Archives.com is NewspaperArchive. As part of your membership, Archives.com members can search the NewspaperArchive inventory, view/download newspaper pages, etc without leaving our site. This is a fantastic collection which is a big hit with members!
6. What are Archives.com's future plans? Acquisitions in the works? 
We're very excited about product enhancements on the way – helping users to find even better search results, refining our family tree tools, etc. We're also extremely focused on adding new historical records to the site (many millions more will be added by the end of 2011). This will be in part through our own efforts, and then partly through our joint digitization initiative with FamilySearch where we have committed at least 5 million dollars to bring new historical records online.
7. Anything else we should know?
One interesting thing (if you haven't seen this yet) is our Family History Trends infographic which we published earlier this year:  We follow industry trends closely, and thought it was fun to share some of our findings with the community. We are really excited for the year to come, and will become a larger presence at genealogy conferences and events. For example we're one of the major sponsors of RootsTech, and therefore I think you'll hear about us a lot more moving forward.
I appreciate the fact that Archives.com addressed the concerns of the people who left unhappy comments about their experiences with the company on my earlier review [point 4 above].  I thank Julie Hill for taking the time to answer my questions.  I plan to do an updated case study to test the family tree search capacities of Archives.com.  Stay tuned for more!
>>>Visit Company Website>>>  http://www.archives.com
———————-
Disclosure – I received a free demo subscription to Archives.com as part of the Geneabloggers Welcome Bag at the SCGS Genealogical Jamboree.  I sought out Archives.com in order to address the concerns of my readers.  I am an affiliate for this company although I don't feel that affects my review of any product or service.  I call it as I see it.    Please see my full disclosure policy here.