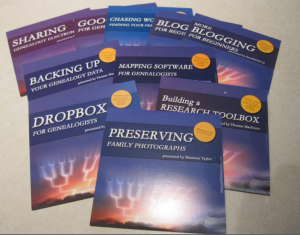 The people over at Legacy Family Tree have a sale on until June 30, 2011.  (use coupon code genblog20).  It's a good one too – 20% off anything in their online store.
I have the Legacy Family Tree Software on my computer (I particularly like how this program does the fan charts) and I received several "Webinar on CDs" as part of the Geneabloggers Welcome Bag at SCGS Jamboree 2011.  I heard many of these sessions live at the time they were being recorded.  They are excellent and I wouldn't recommend them if they weren't.
Legacy Family Tree Webinars on CD include:
Preserving Family Photographs with Maureen Taylor
Dropbox for Genealogists by Thomas MacEntee
Building a Research ToolBox by Thomas MacEntee
Mapping Software for Genealogists by Geoff Rasmussen
Backing Up Your Genealogy Data by Thomas MacEntee
Blogging for Beginners by DearMYRTLE
More Blogging for Beginners by DearMYRTLE
Chasing Women:  Finding Your Female Ancestors by Leland K. Meitzler
Google For Genealogists by Thomas MacEntee
Sharing Genelaogy Electronically by Geoff Rasmussen
The sale includes everything in the Legacy store, including the Legacy family tree software and add- on software such as "Map My Family Tree", "Animap, GenSmarts etc including the webinars. 
>>> Visit Legacy's Store to catch the sale  which ends June 30, 2011.  Don't forget to use coupon code genblog20 to get your discount.
——–
Disclosure – The webinars on CD from Legacy Family Tree were received as a gift in the Geneabloggers Welcome Bags at the SCGS Jamboree.  For more information see the Luxegen Genealogy and Family History disclosure page.