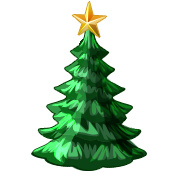 Christmas is still several weeks away, but preparations are already in full swing for many.  Many of my genealogy friends even have their Christmas shopping completed!
(Alas, I haven't started).
Thomas MacEntee over at Geneabloggers has a wonderful way of helping the genealogy community remember (and preserve) the traditions of Christmas past with a series of Christmas blogging prompts.
Join in the blogging fun and preserve your family's holiday memories.
Here is the press release.

THE ADVENT CALENDAR OF CHRISTMAS MEMORIES RETURNS!
Capture Your Family's Memories of Christmas 24 Ways in 24 Days
November 1, 2010 – Chicago, IL. GeneaBloggers – the genealogy community's
resource for blogging – announces the return of the Advent Calendar of Christmas
Memories beginning December 1, 2010.
What started as a bi-annual event December 2007 as a way for genealogy bloggers to
capture and document the memories of family holiday traditions has now grown into
an annual event with its own blog. Visit the Advent Calendar of Christmas Memories
at http://adventcalendar.geneabloggers.com and learn how you can participate in this
unique online genealogy event.
Beginning December 1, 2010, each day will present a specific blogging prompt such as
Christmas Cookies and bloggers will be asked to write about their memories related
to the theme and their family history. A new prompt will appear each day through
December 24, 2010.
Bloggers who have participated in the past can join in the fun again by either repeating
their posts from previous years or creating new posts. Besides creating an on-line
journal of Christmas memories, some bloggers have even gone on to create books of
their previous Advent Calendar posts to share with family and friends.
Don't' forget to check out the list of blogging prompts and get started on capturing your
childhood Christmas memories today!
Follow the Advent Calendar of Christmas Memories on Facebook, Twitter @adventcal and on our blog at http://adventcalendar.geneabloggers.com.