There are as many reasons to be a genealogy blogger as there are people.
I started researching my family tree around 1990 although it took another 11 years before I created my first genealogy websites. The sites were rather primitive but they served their purpose and made connections.
My Luxegen Genealogy blog (where you are now) was created in 2008 to give voice to my passion for genealogy. Genealogy blogging is fun.  I blog about my family tree, conferences I attend, places I'm researching, genetic genealogy and whatever else strikes my fancy and is related to genealogy.
Genealogy Blogging – Why not?

Three reasons why Genealogy Blogging can help you.

1. Sharing the Great Finds
A Genealogy Happy Dance is all the more fun if you can share the research with the world!  I love to announce to the cousins (and anyone that will listen) about the latest genealogy brag.
2. Camaraderie
Did you know there is a family of Geneabloggers (Genealogy Bloggers) out there in cyber space?  They are wonderful, generous, kind, and often highly knowledgeable  people writing about a myriad of topics related to genealogy.  Geneabloggers connect via blog comments, Twitter, Facebook and Linkedin, and through genealogy conferences.  There is an online directory of genealogy bloggers at geneabloggers.com.
3. Cousin Connections
Blogging about your family tree brings the cousin connections.  You might think this wouldn't happen often but I'd say on average it happens every couple of weeks.  It is the main reason I continue to blog.
Recent examples –
A post about my husband's gg-grandfather's role as a conductor on the underground railroad brought a connection within a day.
A post about my Granny who was born in Scotland brought an offer from someone volunteering to take photos of tombstones.
How to get Started Genealogy Blogging
Blogger.com – The quickest, easiest way to get started as a genealogy blogger is to visit Blogger.com and set up a free blog.
WordPress.com is another place to setup a free blog.  This is not the same as WordPress.ORG where you can download the free wordpress software and install it on your own server.
My Luxegen Genealogy Blog (where you are now) is hosted on its own server using WordPress.  One of the advantages of a self hosted WordPress blog is better search engine optimization.  It does take a few more technical skills to set up though.
Genealogy blogging takes discipline to keep going but don't let that scare you.  I suggest blogging at least once a week at the very minimum.  The search engines like constantly changing content and you will get more visitors when you update your pages regularly.  There are suggested daily blogging themes on Geneabloggers.com if you run out of blogging ideas.
Whatever reasons you decide to blog, think about the goals of your genealogy blog and what you wish to accomplish.   Ask for help on Facebook and Twitter and the genealogy blogging community will gladly share their expertise.
Learn about Genealogy Blogging at Jamboree
The Southern California Genealogical Society Jamboree in Burbank California on Saturday June 11, 2011 is offering two blogging summits, both moderated by Thomas MacEntee of Geneabloggers.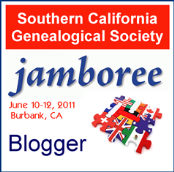 Blogger Summit Part 1 –Beginner to Blogger in 60 minutes. Panelists are DearMrytle, Amy Coffin and Randy Seaver.
Blogger Summit Part 2 – Blogging Issues Roundtable Discussion
During this session genealogy bloggers Kathryn Doyle, Elyse Doerflinger, Dick Eastman and myself will be answering questions about blogging.
If you are attending be sure to stop by. I'd love to meet you!