Family History Research at the Sask Archives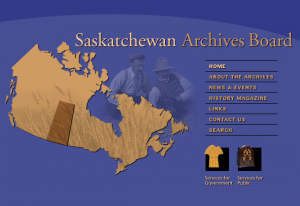 Genealogists love the thrill of the chase….and the holy grail is to view the original record of one of your ancestors.
With originals, there is no need to read between the lines of a transcription.  You can make your own deductions and collect the evidence.   Scattered clues can suddenly make sense when viewed as a whole in an original record.
I recently had the good fortune to spend time in the Saskatchewan Archives in Regina researching my prairie pioneer ancestors.  This post begins a series of posts about my experiences and findings at the Sask Archives.
Location and Parking
The Regina branch of the Sask Archives is located just off of Broad on 3303 Hillsdale Street on the east side.  Parking is a bit of an issue, at least on the two days we were there.  We parked on the street as there were only five or six visitor slots.  We later heard there were 120 University students using the archives for their studies at the time we were there.  This might explain the parking issue.
Researcher Sign Up Procedure
Archives have rules to protect the contents and to monitor usage.  Sask Archives was no exception.  Our first task was to review a long document of rules and services, show picture ID and be issued a Researcher card.  We are to show this card every time we enter the Sask Archives (at any of the branches) and our research ID number is recorded on a daily entry sheet.
No backpacks, purses or coats are allowed (lockers are available at 25 cents a time).  And pencils rule.  No pen and ink is allowed in the archives.  You are allowed to bring in your research folder or notes, your cell phone and a camera.
Orientation
All new researchers are given an orientation of the facility and shown how to find and request material.   The Sask Archives website has a great section on Family History Resources.  I suggest having a look at what is available before visiting the archives.
Researching Homesteaders at Sask Archives
My goal was to find the original homestead applications of grandparents and a historic photo of a certain park in Regina that had meaning to our family.
Certain indexes are available online, such as the Saskatchewan Homestead Index.   You can search by surname or land description.  Homestead records are filed under a number which you will need in order to find a homestead record at the Sask Archives.  If you are researching homesteaders, record the number AND the land description.  For example – Record number 2842888 is the homestead record of William J. Irvine.  The land description is SW 15 30 28 W2.
A good map of Saskatchewan homestead legal land grants will help you interpret which section, township, range and meridian.  In my example above William J Irvine's homestead was the South West corner of Section 15 Township 30 Range 28 West of the 2nd meridian.
One township has 36 sections
One section of land is 640 acres

Each section has four quarters (160 acres)
Check the Sask GenWeb map for a good explanation and visual of how the land grants were laid out in Sask.

TIP – have clear goals in mind in order to maximize your research time.
Self Digitization
Photos of material are allowed only with the head archivist's prior permission and every photo has to be thoroughly documented and signed off by the archivist.  There is a log sheet on which to track photos and each photo taken has to be properly cited with call number of the material photographed, which collection, which record, how many copies you took, etc.  The process of taking photos of research material is called self-digitization.
Photos produce an adequate record but you may want a professional copy made (at a cost) by the archivists.  I saw one gentleman requesting copies of Cummins maps of Saskatchewan.  He had several copied and his cost was less than $5, so consider that option if you want high quality copies.
TIP – at the end of the day take a photo of your self-digitization research log sheet before you hand it in to the archivist.  It makes a great research log of your progress that day.
Resources I used
Photo Collection
Homestead Records
Local History Books
School District Records
Maps
As mentioned, check the website for a complete list of services available for family history research.  Most of the newspaper archives are in Saskatoon.  Microfilm can be ordered in through inter-library loans.

My research goals for this trip were met and exceeded with the resources found at the Saskatchewan Archives.  A special thanks to Archivist Paula and her team for their expertise.  Stay tuned for my research findings in the following blog posts.

—

Questions, comments?  Please leave your comments below.