Mobile Genealogy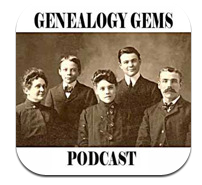 I heard my name on Episode 80 of Genealogy Gems Podcast and this podcast was coming to me on my iPhone!
Yes, Lisa Louise Cooke with Genealogy Gems Podcasts has produced an iPhone app.
Released December 18, 2009 it was one of the first genealogy applications I installed on my new iPhone.   Lisa does a wonderful job of making family history fun and bringing the latest genealogy news to one's home computer and now to mobile genealogy.
She does this by podcast, which is an audio broadcast on the internet – in other words "Radio on the Internet". The podcasts can be played on both an iPhone or iPod Touch.
The new Genealogy Gems Podcast iPhone App features the latest recordings of her podcasts. This is free content that Lisa produces on a regular basis featuring a total of 80 episodes at the time of writing.
Genealogy Gems iPhone App
What do you get besides Podcasts? There are Extras that vary with the podcast.  In Episode 80 there is Bonus movie that shows how one can search the FamilySearch.org website.  This dovetails nicely with her interview  of Irene Johnson who explained what one would find when visiting the Family History Centre in Salt Lake City.  Irene was stressing how important it was to be prepared and Lisa was showing us how to do that with the Bonus movie.
The App also comes with a useful ebook (5 Fabulous Google Research Strategies), program notes on various episodes, wall papers, a "Tell a Friend" feature and a link to the Genealogy Gems Podcast website.
I enjoy the fact that I can listen to the episodes on the road or working around the house.   I feel the Genealogy Gems Podcast iPhone App is a useful application and another learning tool in the Genealogy tool belt.
So…why was Lisa Louise Cooke mentioning my name on her podcast? I didn't know her personally and she didn't know me when I downloaded the Genealogy Gems Podcast iPhone App back in December.  Like most genealogists I had listened to many of her podcasts on the web.   She has been giving us helpful genealogy podcast content since 2007.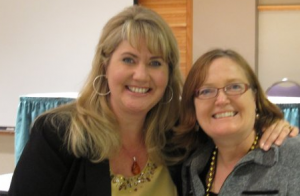 I did get to meet her in Mesa Arizona at the recent Family History Expo in January 2010.  What a warm and gracious person.  She did a LIVE broadcast at that event and I happened to take a lot of photos.  Also lots of photos of fellow Geneabloggers and of the Family History Expo in general.
Lisa mentioned on Episode 80 that I had posted the photos.   I link to them below.
PHOTOS Family History Expo Mesa January 22, 23, 2010
Related: