Rootstech Mailing List
Rootstech 2012 plans are in full swing and if you are planning to attend, get yourself on the mailing list here.  The sign up form can be found in the center of the page at Rootstech.org (circled in red in the picture below).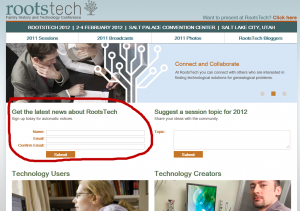 What is Rootstech, you ask? 
Rootstech brings genealogists and technologists together for 3 days of great sessions.  The conference will be held Feb 2 to 4, 2012 in Salt Palace Convention Centre, Salt Lake City.  I attended last year and enjoyed the conference tremendously.
I'll be attending as a speaker on an international panel of colleagues discussing genealogy and social media.   I'll also be blogging, tweeting, google plussing, and Facebooking news as it happens.  My husband and I plan to arrive a few days early to spend some time researching in the Family History Library.

Rootstech Hotels
Registration opens next week so NOW is the time to get your hotels before they all book up.

Amy over on the We Tree Blog has posted the press release giving information about the official hotels.  The rate is awesome – $89/night.
The two hotels are the Radisson and the Salt Lake Plaza.  Both are very conveniently located for attending the conference. 
The Radisson is adjacent to the Salt Palace convention center.  The Plaza is literally around the corner from the Family History Library and about a block walk from the convention center.

Check out the press release here and book your hotels today!
Update – phone for your hotel reservation (rather than doing it online).