The cream separator stood around the corner at the bottom of the basement stairs in the old house. Metal gray and dully shining it was used every day.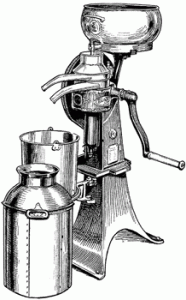 Dad would milk the cows and give the barn cats each a squirt.  When he was finished he'd bring the big pails of warm milk into the house to have the cream separated off.
If you were to leave the milk to set, the cream would rise to the top of the pail in a thick rich layer ideal for making butter or serving on freshly picked strawberries.  I still remember the taste of freshly clotted thick cream and warm milk straight from the cow. There is nothing like it.
Nowadays I chuckle when our son exclaims "Fresh Milk!" as he opens a 4 litre milk jug.
He delights in the fresh taste but he has no idea how fresh milk truly tastes.  I'd love to take him back to that time and place in rural Saskatchewan of my childhood.

Of course these days, milk and cream in the stores isn't the same. Safer perhaps with its pasteurized goodness and added Vitamin D, but definitely not the same.
But I digress…back to cream separator…

At one time we would have had to turn the crank to separate the cream by centrifugal force, but by the time the separator was on my radar we had gone upscale and bought the electric model.
I had a love-hate relationship with that cream separator.
I enjoyed watching over the basement stairs rail as my Dad poured the big pail of milk into the top. I eagerly awaited the first flow of separated milk which we collected into bottles to store in the fridge.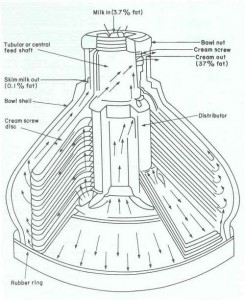 On the other hand, I hated the cream separator.  It was my job to wash the darn thing and its many innards.
The stack of disks used to separate the milk had to be pulled apart and every disk washed in hot sudsy water with a brush which had to touch every inch in order to clean the surface.
I used to know how many disks there were.  I don't recall now.  In my youthful eyes with a chore at hand, there seemed to be hundreds but there were likely less than 20.   Does anyone recall?  I counted 17 in the picture but I don't know if that model is the same as our old cream separator.  Perhaps Mom remembers.

How many of you have memories of an old cream separator? Or perhaps you are still using one now, if you are fortunate enough to be living on the farm.
Please share your comments below.
—-
Sharing Memories is a regular blog prompt from Lorine at Olive Tree Genealogy