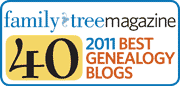 Thank you Family Tree Magazine and thank you to all of my dear readers, relatives and friends who voted for Luxegen Genealogy in the Heritage Category of Top 40 Genealogy Blogs contest!
I am honoured and delighted to be chosen as one of the Top 40.   I congratulate my fellow FTM2011 winners!
Thank you to the expert panel that helped make the decisions.
Congratulations to all genealogy bloggers.  The genealogy blogging community is a warm and welcoming group and I'm proud  to be part of such a wonderful community.