Google Translate for Google Plus 
Google+ has turned into a great meeting ground for genealogists from all over the world.  
Google+ is the a social networking platform offered by the search engine company Google, with its nearest rival being Facebook.  (I prefer Google+ to Facebook for a lot of reasons but that's another post).
Google+ features an international genealogy crowd with lots of languages.  Being somewhat limited in my multilingual skills (with English and basic French) I was delighted to discover there is a Chrome extension for Google+ that will translate!  (For my non-techie readers – Chrome is web browser similar to Internet Explorer or Firefox).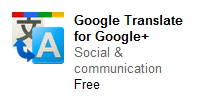 The languages available are:
Bahasa Indonesia, Deutsch, English, Filipino, Français, Kiswahili, Norsk, Tiếng Việt, Türkçe, català, dansk, eesti, español, hrvatski, italiano, latviešu, lietuvių, magyar, polski, română, slovenský, slovenščina, suomi, svenska, čeština, Ελληνικά, Српски, български, русский, українська, हिन्दी, বাংলা, ગુજરાતી, தமிழ், తెలుగు, ಕನ್ನಡ, ไทย, ‫العربية,
You will be able to follow genealogists in their native language in your ancestors' homeland.
Thank you to Michael Swanson, a genealogist researching in Finland and Sweden, for the information.  
The Chrome extension is available for free from the Chrome web store. 
Installation is easy – download and it automatically adds itself to the browser (after you grant permission).
Search on Google Translate for Google Plus Chrome Extension or go directly here to download.