Great Famine Migrations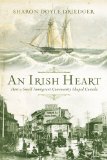 "Half of Ireland must have left.  Everyone we meet seems to have Irish ancestors!"  exclaimed our new Irish friends, Eric and Sylvia.
I had mentioned my grandfather had been from the Belfast area.  They too, were from near Belfast, only 80 or so miles away.
We were having this conversation in New Zealand, half a world away from both Ireland where Eric and Sylvia were from, and Canada where we live.
Indeed this conversation took place not far from where my Irish grandfather's sister Sadie had settled in New Zealand.
The Irish left the country in droves in the 1840s fleeing the Great Famine and they settled all over the world.  Later generations followed in their search of homesteads or jobs and a better life.  My grandfather settled in Canada, two of his sisters and one brother went to the USA and his youngest sister Sadie migrated to New Zealand.
No wonder our new Irish friends were convinced everyone they met abroad had Irish ancestors.
We certainly weren't the first!
Thousands headed for Canada, often on 'fever ships' rampant with typhus.  According to Sharon Doyle Driedger, in her new book "An Irish Heart",
many thousands settled in Montreal.
The Irish built a working-class enclave marked by strong religious faith and an indifference to the political authority that endured for over a century.
This story of Irish Montreal may contain genealogy gems for those with Irish ancestors.  Even if your immediate ancestor didn't settle in Canada, their brother or sister may have.
As Eric and Sylvia said "Everyone we meet seems to have Irish ancestors!"
—
An Irish Heart
is available at HarperCollins. Used copies are starting to appear on Amazon.