Homestead Records in Saskatchewan
My grandfather, William (Bill) IRVINE was a Saskatchewan homesteader.  He arrived in Canada from Ireland in 1911 at age 19 to make his way in a new land.  He was only 20 when he homesteaded on 160 acres 20 miles south west of Young, Saskatchewan.  It was a hard life and the winters were long and harsh.  He married Isabelle Woodland and together they raised a family and tilled the land.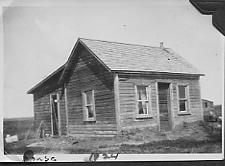 The Saskatchewan Archives houses homestead records. Original files can be found at the Saskatoon location and microfilm copies are in Regina.  You must have the name of the homesteader or land location to find the record.
Homestead records provide limited information about the homesteader such as age, date and entry and patent, the number of members of his family and often, but not always, his place of birth, former place of residence and previous occupation.
More information on homstead records and other land records is available on the Saskatchewan Archives web site.
Homesteaders who obtained a patent (official certificate enabling them to receive the title to the land at the local land title office) are indexed in the Library and Archives Canada database.
The Saskatchewan Archives may be contacted at:
Saskatchewan Archives Board
3303 Hillsdale St.
Regina, SK
Phone: 306-787-4068
Fax: 306-787-1197
Web Site: http://www.saskarchives.com
Saskatchewan Archives Boards
Room 91, Murray Building
University of Saskatchewan
3 Campus Drive
Saskatoon, SK S7N 5A4
Phone: 306-933-5832
Fax: 306-933-7305
Web Site: http://www.saskarchives.com