During my research for an article I'm co-writing about my grandmother, I came across a touching story….and stories are what this is all about, at least for me. A list of names, citations and official documentation (all important) can make a family tree; but it is the story or collection of stories that truly make a family history.
Here is the story of my Grandmother, the MAIL ORDER BRIDE…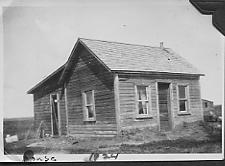 My grandfather, William (Bill) IRVINE arrived in Canada from Ireland in 1911 at age 19 to make his way in a new land.  At age 20 he took up a homestead of 160 acres in the rocky hills 20 miles south west of Young, Saskatchewan.  The going was tough.  The winters were long and harsh, the house (basically a shack) and barn were built with the labour of his own hands, the soil turned and the crops planted.  When old timers talk about having to walk uphill both ways, this is what they meant!
My grandmother, Isabel WOODLAND was born in April of 1898 in Ottawa, Ontario, the second daughter of Samuel F. WOODLAND and Isabel Mary NESBITT.  Her father was a planer and a millwright and they moved west to make a living after losing most of their possessions in the Great Ottawa Fire in the year 1900.  The family lived in BC for several years before returning to Ontario to her grandparents' house after the death of Isabel's mother in a runaway horse and buggy incident.  Her grandparents were living in Morrisburg, Ontario at the time.
Grandma was a strong woman; a person of conviction and she had a dream.  She wanted to be a dentist. This in an era where most women didn't have professional careers (early 1900s).  In preparation for a career in dentistry, she worked as a dental assistant for three years.  Imagine her dismay when she discovered her senior matriculation didn't qualify her for dental school.  She then turned to nursing and graduated number five of the first graduating class of the Ottawa Civic Hospital on June 10, 1925.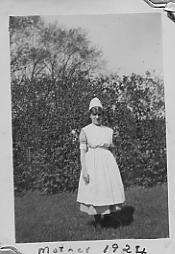 Grandma was also a family historian and in her later years she recorded this story….
Isabel's story in her own words….

"A couple of days before graduation, there was letter for me postmarked Young, Saskatchewan. The letters had started some time earlier when my cousin, John Woodland, had given my address to his friend, Bill Irvine. This developed into a continuous correspondence and we got to know each other quite well."
At this point my grandparents had never met face to face. They were penpals and a budding romance had developed, all by correspondence. (how they would have loved the internet!).
Isabel's story continues…
"Bill had a good crop and decided to check on his mail-order bride. Arrangements were made by letter and he arrived in Ottawa in January 1926 for a visit at which time he proposed. I showed off my new ring when I returned to specializing at the Civic Hospital. Wedding plans were made for February 18, 1926. My cousin, Vida Smith, was my bridesmaid and her friend, Allan Boyd, was best man. My dress was royal blue cut velvet and Bill wore a navy suit."
This is an interesting family story and we are fortunate to have it but the story gets even better.  At this point we turn to Grandpa's diary.
Grandpa William Irvine kept a daily diary for well over SIXTY years….
Under a heading of "Things of Paramount Importance" he wrote: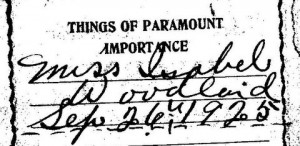 "Miss Isabel Woodland Sept 26, 1925.
On January 7, 1926 we find the following entry shortly after his arrival in Ontario to meet his penpal Isabel face to face.
"Out to see Isabel. Our discussion never to part. Those pleasant moment I will never forget."
Grandpa was in love…
And on January 12, 1926 we find another notable entry in his diary.  Grandpa was never a demonstrative man and I find this following entry to be particularly touching.

"Gave Isabel Ring. W( I  I) W"
with a circle around the two"I"s for William Irvine and Isabel Woodland.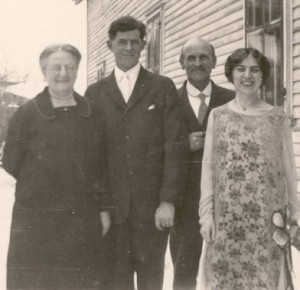 On the day William IRVINE married Isabel WOODLAND, his mail order bride, February 18, 1926 he wrote:
"The greatest event in life, got married. Married bliss."
—
This, in my humble opinion, is what makes a family history.
Warmly,
Joan
P.S. Special thanks to several family members for your help.  You know who you are..:)
——–
The moral of this touching story?  Please include as many stories as you can in your roots research and reports. Paste them into the notes section of your family tree software, record them in a word document, or better still audio or video record the stories of the elders of your family.  Whether you publish a blog post or a long report for the extended family, these are the stories that will enrich your family tree and make it truly a family history.