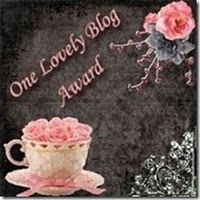 #FF
Yesterday I was delighted and surprised to receive an email with notice of an award.
Thank you to Audrey Collins at TheFamily Recorder for choosing my Luxegen Genealogy blog for the One Lovely Blog Award!
It is always thrilling to think that someone is actually reading my blog and that I'm not blogging in a vacuum 🙂
I enjoyed meeting Audrey at Rootstech 2011.  She is a Records Specialist in Family History at the National Archives in London, England.
The rules of acceptance are:
1. Accept the award, post it on your blog together with the name of the person who granted the award and their blog link.
2. Pass the award on to 15 other blogs that you've newly discovered or just love so much.
3. Remember to contact the bloggers to let them know they have been chosen for this award.
I used several criteria for making my choices – I included blogs that have interesting content, from owners that like to teach or advance the knowledge of genealogy, or blogs that are funny or poignant. I also tried to find blogs that hadn't received the One Lovely Blog Award before.  There are over 1600 blogs in the geneasphere and each and every one of those bloggers make a valued contribution.  Check them out at the GeneaBloggers website.

It is up to the individual recipients whether or not they choose to post the award.   Folks are busy and I completely understand if recipients choose not to participate.

These are the blogs I have chosen, in no particular order.  You may notice a lot of genetic genealogy blogs.  It is one of my interests.
Two new blogs that keep us informed:
Gen Society Blogs and Conference blogs that I follow:
I hope you enjoyed my One Lovely Blog List.  Be sure to check out these blogs.